Whoever you are, whatever your story, you are welcome here.
At Sparta Evangelical Free Church, we want to see middle school and high school students understand who they are in Christ, and that their lives have a purpose in the Kingdom of God. We want to invest in the next generation of Jesus followers, and strive to build up our students to be genuine, grounded, and active participants in His Kingdom. We have a fantastic youth program on Sunday nights for middle school and high school, engaging
LIFE Groups
midweek, and
CORE Classes
on Sunday during the school year. Look forward to
new events
like Black Light Dodgeball and retreats coming each Fall and Winter. If you're between 7th grade and college, it's a great opportunity to be in a positive environment and learn about Jesus in a way that will empower you to make right choices and step into the next part of the story God has for you!
Help us love on our new Youth Pastor, Luke Mihail, and his family by meeting their needs as they prepare to move from Australia to New Jersey. View their home needs here.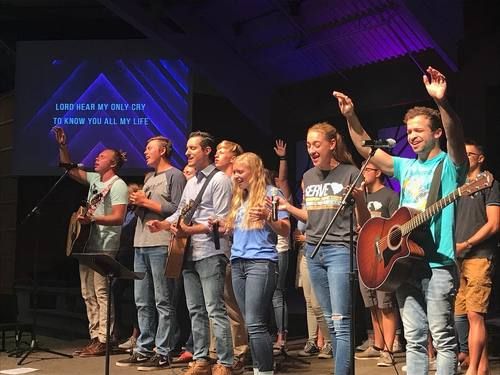 Text "CONNECT" to 40650 for updates.
Junior High Youth Group is joining with Senior High for the summer, and meets Sunday nights from 5 - 7:30pm until September.
Friday Nights 7:00 - 9:00pm in our Youth Room during the school year, Sunday Nights 5:00 7:30pm during the summer
If you are in middle school, junior high youth group is for you. Junior high youth group is YOUR time to worship, play games, have snacks, hang out, and get to know Jesus. Talk and pray in small groups with our amazing youth leaders who will talk about the Bible on your level. Don't miss it.
Sunday Nights 5:00 - 7:30pm in our Youth Room
If you are in high school, senior high youth group is for you. Youth group is a high energy Sunday night, where you can come and eat, hang with friends, meet new people from all over the area, and hear some of our amazing youth leaders from our church who will speak directly into your life. Don't miss it.
Get Connected. Go Deeper.
Each Wednesday from 7:00 - 9:00pm during the school year, we gather from all over the county as high schoolers to learn about the Bible, pray for one another, create space to rest and focus on Jesus, and spend time together. Find hope, a supportive community, quality mentors, and a great time. Come hang out with us and enjoy some good company.

Girls | Rachel Kuiken and Anna Thuen leading
Meeting at B & T Meara's home in Sparta

Guys | Seth Kott leading
Meeting at the Williamson's home in Sparta


CORE Classes for Jr High/Sr High are not offered during the summer.
Sunday mornings 9:45 - 10:45am in the Youth Room

Junior High last did a series on the Foundations of Scripture, and Senior High was studying the End Times.
Junior High is taught by Brenda Breitz, and Senior High is taught by Chris Scherlacher and Chris Niehoff.