Seeing children know, love, and serve Christ.
4Real Children's worship services are virtual!
Click the video below to watch 4Real's latest Sunday Service!
Please click the button below to be redirected to Sparta Church Online! Or click the YouTube Button to be redirected to our YouTube channel, subscribe for updates!
Jesus said, "Let the little children come to me."
Join the fun and experience a world where children meet Jesus on their level!
At Sparta Church, we love kids. We want to provide a fun and safe environment for kids to learn about Jesus. We want our classrooms to be marked by learning and laughter. We want our events to be full of energy and excitement. We want our parents to be well equipped and supported. We want our kids to encounter Jesus and become his disciples because that's what it's all about. If you are interested in learning more about 4REAL Children's Ministry, Erwin Morales, our Children's Director, would love to
chat with you
.
4REAL Children's Ministry is divided by age into three groups—Nursery & Toddlers, Preschool, and 4Real Kids Worship—with each having a time of worship, prayer, and interactive lessons. Safety is paramount. We utilize a secure check-in system that gives a unique code each week to the child and to the parent to use for drop-off and pick-up.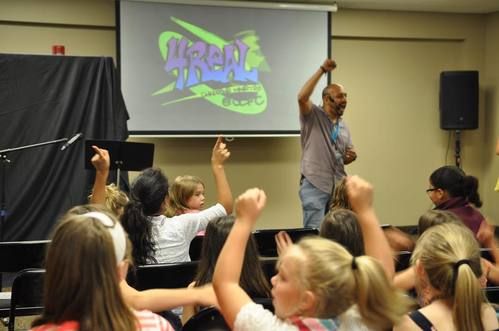 Sunday mornings beginning at 8:15, 9:45, and 11:00am
Sunday mornings 11:00am - 12:00pm
Nursery is geared toward children ages birth-24 months. We have three different nursey hours available during our 8:15am service, our 9:45am CORE Classes, and our 11:00am service. During your child's visit, they are cared for both emotionally and physically. Nursery staff will change diapers, bottle feed, serve parent-provided snacks, hold, rock and comfort your child throughout their stay. In nursery, children participate in free play and hear simple Bible stories and songs.
Preschool/4REAL Jr. is geared toward children ages 2-5
. Our staff are committed to encouraging little ones to eagerly explore the world God created and to help them understand the wonder of His love. During the service, our staff will lead your children through a meaningful Bible lesson using
First Look's curriculum
, followed by an exciting activity or craft. Lessons are kept simple and fun, focusing on one of the following three truths: God made me; God loves me; Jesus wants to be my friend forever. It is our hope that these truths take a firm hold of our children's hearts and are carried with them for the rest of their lives.
CHURCH THAT'S JUST FOR KIDS!
Sunday mornings 11:00am - 12:00pm in the Fireside Room
Each weekend, children age 6 - 12 are invited to participate in a dynamic, high-energy worship service designed just for them. 4REAL is a fun and purposeful time of worship and teaching to learn more about God in a relevant way. We encourage children to talk to God at any time and any place. Our staff are committed to helping your child grow in every aspect of their relationship with Jesus Christ and knowledge of His Word by understanding why we worship in the first place. Our staff have a passion for serving in children's ministry and have a deep desire to see children know, love and serve Christ.
Sunday mornings 9:45 - 10:45am
So, what is 4REAL CORE?
4 REAL CORE is made up of classes where children are grouped by age and taught interactive lessons from the Bible. Children participate in singing, playing games, and sometimes even making things that will help them know more about Jesus and the stories in the Bible. They are encouraged to bring their Bibles and learn memory verses. The way the curriculum is set up the classes are teaching their way through the entire Bible from Old to New Testament.
This is not your typical Sunday School program.
While many churches have abandoned Sunday School, we value 4REAL CORE as a special time for us to gather together for discipleship starting young. We offer a relevant hour of teaching that is well-attended and allows children to grow in their knowledge of Scripture, to develop a biblical worldview, and to be increasingly able to apply the gospel to every area of their lives.
4REAL Children's Ministry is fueled by the efforts of our amazing volunteers, and we are always looking to grow our team! If you are interested in serving kids, we would love to hear from you. Fill out our
signup form
to learn more about becoming a volunteer. All volunteers must pass certain prerequisites including a
background check
.
If you are interested in learning more about 4REAL Children's Ministry,
our Children's Director, Erwin Morales, would love to chat with you.